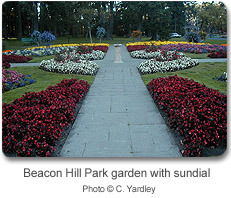 Beacon Hill Park is located along the south shore of Victoria, British Columbia and the Juan de Fuca Strait. It has been a park belonging to the city of Victoria since 1882. A trust was then established for the 62-acre (24.8-hectare) site. Beacon Hill Park was originally called Meeacan (the Salish name for belly) by the First Nations people because from a distance, it looked like the belly of a large man lying on his back.
Beacon Hill Park is the site for many exciting events hosted in Victoria. Annual events such as the Victoria Luminara Community Lantern Festival.
In 1956, Chief Mungo Martin and carvers David Martin and Henry Hunt created the world's largest totem pole (160 feet) from cedar. The pole was raised during ceremony with thousands of people, including First Nations' leaders and civic and provincial leaders.
The pole was taken down for restoration and repair, and will be proudly raised again, with the help of fundraisers. Please visit this web site for more information.
This web site was built to help facilitate information to the public about Beacon Hill Park and the year round activities that are available there. If you wish to have a link on beaconhillpark.com to your web site, and your web site contains information about events in the park, or interesting info about Beacon Hill Park, etc. please email your link to info@starglobal.ca, and we'll add it on.

No part of this document, images or text may be duplicated without express written consent of owner. © 2001
Contact info@starglobal.ca for more information.